1974 Jaguar V12 E Type Roadster
September 8, 2015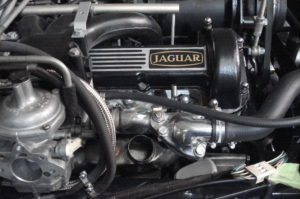 1974 Jaguar V12 4 speed  Roadster - Opalescent Dark Green, A/C with Hardtop,English vinyl soft top, 24,000 original miles.
This 1974 Jaguar  V12 E Type Roadster,  Opalescence Dark Green in colour with 4 speed transmission  has a complete thorough  restoration. The interior is in excellent to mint condition. It had been sitting idle for over 15 yrs and required a complete  detailing and repainting as everything was not up to  factory standards. We replaced, rebuilt and refurbished everything to bring it back to factory standards or better. We have finished the restoration and driven it on its shake down, tune up and final inspection . It is now ready for sale.
This is  one of the very last 1974 Jaguar E Type roadsters made with Hardtop included. It is a classic true Convertible V12 with less than 2582 ever made and  many have been crashed and written off . It was painted by one of the finest painters of automobiles Travis Brown and is in concours condition. It appears the value continues to rise on these fine quality automobiles being that there was limited production compared to others.We have installed 5 bolt Dayton wheels and 2 ear knock offs as an original option . It also has a full warranty as per a new car of the same year it was manufactured. The engine is silky smooth, being there are very few production v12's makes it a very collectable car indeed.
The engine is now broken in and driven and tested for all details to make it excellent.
All viewings and road testing by appointment .We are able and considering installing 6 downdraft webers and intake to alter slightly from the factory specs making the engine  20-30% more horse power approx. 378hp if the perspective purchaser desires.
Call BMC for more info.
We have heritage certificate and market appraisal available'