BMC Team
August 6, 2014
BMC Employees
These are the individuals that make BMC Motorworks run like a well-lubricated transmission. Each person brings something special to the table whether it be restoration experience, marketing expertise, or repairing and diagnostic skills. Come by and meet them in person!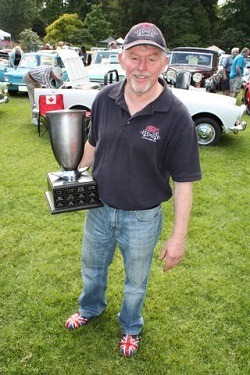 David has over 43 years of experience diagnosing, repairing, and restoring vehicles of all ages and origins. He started his career in automotive through a job at the Vancouver Nissan dealership back in 1971. There he spent most his time working in parts, service, and sales over his four year tenure. Shortly thereafter he realized his love for British cars and took on an 8 year apprenticeship tailored to Jaguars, and in 1982 earned his license through the British Columbia Institute of Technology. David's entrepreneurial spirit drove him to open his own business restoring and repairing numerous collectibles including: Morgans, Jaguars, Healeys, Triumphs, and various Bentleys and Austins. In 1986 he officially formed BMC Motorworks and began racing and being involved in Pit-crew management in Formula Ford, Formula 2000, Sports Racing, and Atlantic racing up until 1990. Following that, he retired from racing, and further concentrated on quality restoration and repair of British and European automobiles. To this date David continually prides himself on quality diagnosis, repair, and restoration with the highest degree of honesty and integrity. David and BMC are your pit crew, for the most important drive of your life: "Your drive home."
Steve Teal
Automotive/Restoration Technician
Tavish Gilmour
Web Designer & Photographer
When not busy with business courses at BCIT or various business and finance-related projects, Tavish runs BMC Motorworks' website.